Tenants Together is a statewide coalition of local tenant organizations dedicated to defending and advancing the rights of California tenants to safe, decent, and affordable housing. As California's only statewide renters' rights organization, Tenants Together works to improve the lives of California's tenants through education, organizing, and advocacy. Tenants Together seeks to support and strengthen the statewide movement for renters' rights.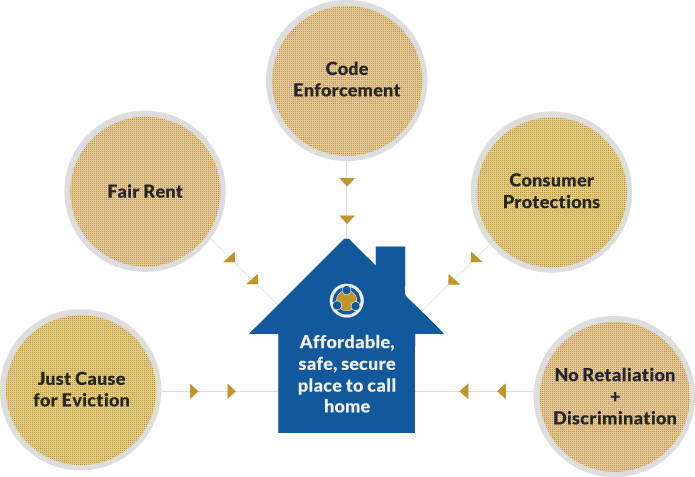 As a network supported by our member and member organizations, Tenants Together works to empower renters to assert their rights and provide the tools to organize and advocate in their own communities. Working together, we build the power and political will to win economic justice.
Education
Our Tenant Rights Hotline is unique in providing peer-counseling to individual members across the state. Most of our hotline counselors are tenants themselves, volunteering to help others learn their rights and connect them to resources. We gather tenant leaders from across California for our Tenant Leadership Institute, training leaders on organizing in their own buildings and communities on advancing tenants rights. We also provide trainings to organized groups of tenants on a variety of topics including basic rights, passing legislation, and ongoing technical assistance to member organizations.
Organizing
We provide resources for tenants to form their own Tenants Unions at the building-wide or city level and work to build solidarity across the state by engaging local groups as member organizations of Tenants Together. We provide technical assistance on organizing campaigns for member organizations and work to build coalitions to win state and local legislative battles. We promote peer-sharing of best practices in communications and tenant organizing. In 2017 we launched an historic statewide renter assembly, California Renter Power, with a retreat in Los Angeles and big Assembly in Alameda.
Advocacy
Our Tenant Lawyer Network trains and develops tenant attorneys across the state to advocate for renters' rights. We file impact litigation that advances renters' rights and support grassroots campaigns. We provide technical legal assistance to campaigns in drafting and reviewing legislation, as well as lending expertise to many state bills that impact renters' rights.
Tenants Together is also connected to a national network of people and organizations fighting for housing justice as a member of the Right to the City Alliance and their Homes for All campaign.