Tenants Together is a statewide coalition of local tenant organizations dedicated to defending and advancing the rights of California tenants to safe, decent, and affordable housing. As California's only statewide renters' rights organization, Tenants Together works to improve the lives of California's tenants through capacity-building, movement-building, and statewide advocacy. Tenants Together seeks to support and strengthen the statewide movement for renters' rights.
We believe that housing is a human right, not a commodity. We advance policy that is driven from tenant experience. To resist displacement we must organize renters and other allied groups to make strong and bold demands of those in power. Organizing for tenants' rights to us means organizing tenant unions and building associations, building tenant power for the long-term. If we are to win the most transformative policy, we must center our movements around the leadership of those most affected: low-income communities and communities of color. We seek alignment with other movements fighting against structural oppression because tenants do not live single-issue lives, and the right to housing will only be won by building power with other movements. This includes, but is not limited to, movements that build collective power and are rooted in racial, gender, economic, environmental, and disability justice; trans and queer liberation, and indigenous sovereignty.
What are "tenants' rights"?
The following represents key issue areas we focus on under the umbrella of "tenant protections."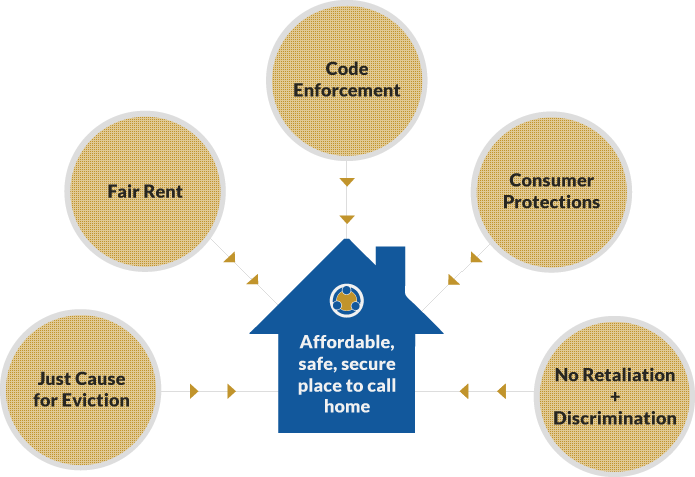 What does Tenants Together do?
The following are core strategies for our coalition and day-to-day work.
1) Support emerging local Tenants Unions (Capacity Building)
Help develop local organizing & counseling

Develop replicable models for tenant education and organizing in California and training programs to disseminate this model.
Support the formation of building-wide and citywide tenants' unions, and dissemination of direct action tactics.
Train hotline volunteers to help build capacity for supporting local counselors, organizers, advocates.
Technical assistance: Advise on renters' rights campaigns

Legal TA/advice on organizational structure, drafting legislation. Referrals to tenant lawyers for legal help. Organizing and training lawyers to assist tenant groups through the Tenant Lawyer Network.
Communications TA including opposition talking points, media training, social media training, narrative and storytelling trainings.
Organizing strategy hubs to share best practices, lessons learned of past and recent tenants' rights campaigns.
Develop resources for all tenants in California

Free organizing toolkits for issues, educational webinars, sample letters to landlords
Utilize the tenant hotline as a referral system and strategic resource
Publish web-based know-your-rights resources, including fact sheets
2) Connect and Unite Tenant Groups Statewide (Movement Building)
Trans-local power-building: bringing tenant groups together to share best practices, successes, inspire each other, create a united front, and develop shared strategy.

Member organization calls/videoconferences to develop shared strategies
Convenings, assemblies to developed a shared vision & analysis
Document local strategies & successes to build momentum and narrative power
Partner with Homes for All to build capacity and intentionally connect renters' rights work to a broader housing justice framework**
Shift the narrative in support for renters through statewide media outreach, communications, events, talking points, and amplify local work.

Amplify translocal renters' rights campaigns
Articulate clear model for tenant organizing & building long-term power 
Conduct communications trainings for campaigns and tenant spokespeople for media
3) Effectively Represent Tenant Groups in the Capitol and Become a Force to Be Reckoned with in Sacramento (Statewide Advocacy)
Connect statewide advocacy work with movement-building work

Share expertise on state advocacy, legislature, and politics with member orgs
Engage member orgs in building relationships with state representatives
Monitor legislation and keep tenant groups informed & engaged
Monitor court cases, file amicus briefs and/or intervene in litigation
Grow Tenants Together's role as a coalition of member organizations making unified and strategic demands for policy change

Conduct briefings of legislative staff, lead lobby days, testify at hearings, letters on legislation
Public spotlight on legislators for accountability; Issue annual legislative scorecard
---
What is our long-term strategy for success?
Tenants Together works to address the root causes of housing insecurity by supporting and uniting local tenant organizations across California. We are a coalition of tenant organizations building the capacity of local tenant groups, connecting organizations in a statewide movement, and collectively advocating for statewide policy change. We believe that strong local tenant organizations, united across the state, are the cornerstone of the tenant rights movement and are essential for progress toward housing justice. We also know that we cannot do this alone, and that the struggle for housing justice is intimately connected to broader movements for racial, economic and social justice.  A strong tenant movement acting in coalition with allies will realize a world where renters are treated with dignity as equal members of the community, where people's basic need for housing is valued over profits, and where we reverse the deepening inequality and poverty among California's most vulnerable communities.
The following is a graphic that represents our current "theory of change" meant to guide the bigger picture of our work.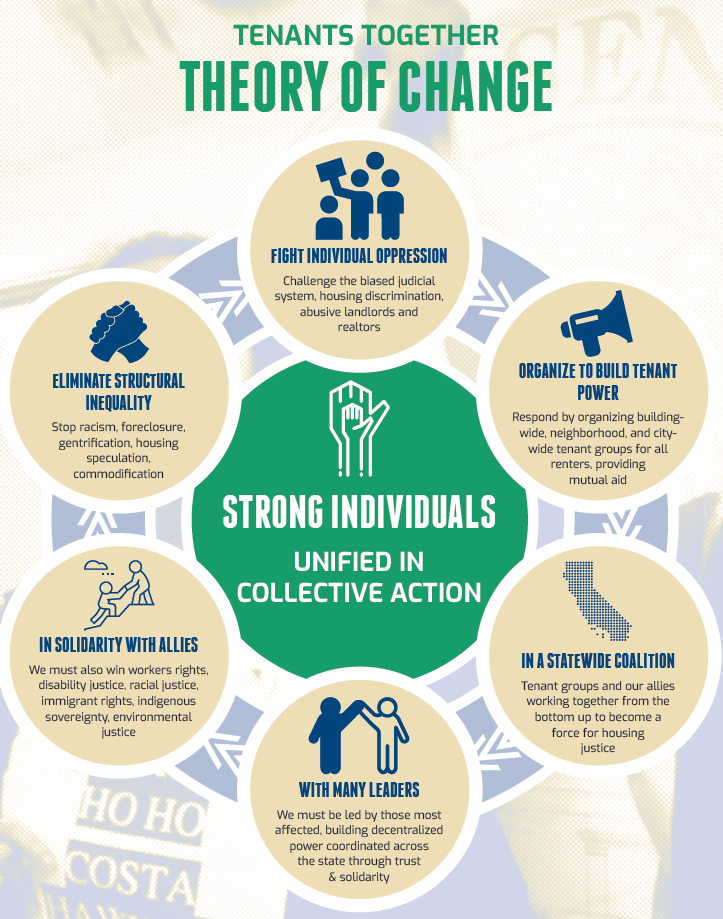 **Tenants Together is connected to a national network of people and organizations fighting for housing justice as a member of the Right to the City Alliance and their Homes for All campaign.